Careers
At Columbia Grain International, we invite you to join our team. With opportunities across the northern tier of the U.S., including grain elevators, pulse processing plants, agronomy centers, logistical operations, and HR, we offer excellent mentorships for those starting their agriculture careers to full employment packages for executive management positions. For those considering relocation, our team will ensure a smooth transition and orientation.
We value every member of the Columbia Grain team who demonstrate daily our core values of innovation, reliability, respect, and have the dedication to work hard to cultivate growth for our farmers, our supply chain management and for their own  self-enhancement.
Jeff Van Pevenage, CEO
Cultivating Your Growth
CGI cultivates career growth, as shared by some of our team.
"My favorite thing about working at CGI is the underdog mentality the company possesses. We might not have the size of our competitors, but through hard work, innovation, and dedication we've been competing with them for 43 years. Our company values are present in our employees, and our culture is our single biggest competitive advantage."
Tony Roelofs, Vice President, Pulse Division
"At Columbia Grain, we have dedicated talent working every day to accomplish our mission. Our employees are the beating heart of our business. Their commitment, care and skills support the expansion of our efforts to provide safe and nutritious solutions to feed those around the world. We are committed to being a people-first organization and that starts with cultivating our employees, the relationships with our growers and the impact that we make around the world with our partners. Come join us."
Patty Groman, Human Resources Director
Internships
At CGI, we are truly committed to "Cultivating Growth" at every touch point. We are dedicated to sourcing new talent. We are proud to support those just starting their agricultural careers with our internship program and dedication to organizations like the National FFA.


Learn more about our internship opportunities
Management Trainee Spotlight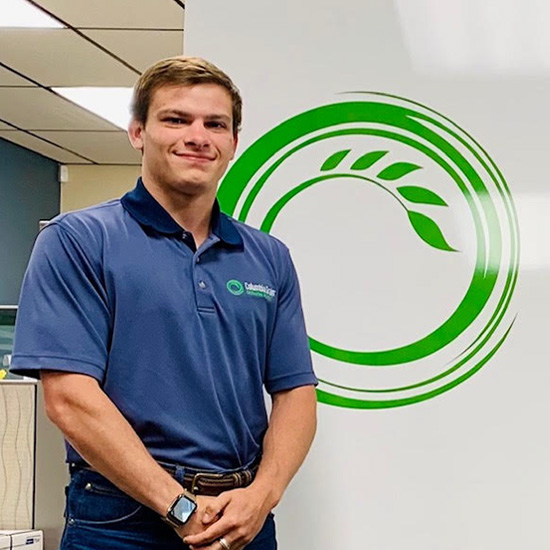 Meet Sean Ferguson, a Wheaton College grad from Boise, Idaho working in our Great Falls, Montana location. We're giving Sean the tools and training on all aspects of our company from compiling daily harvest data into reports to learning agricultural accounting, prior to landing him in our Portland Headquarters, where he will be a merchant.
We may be spread across the country, but our teams work towards a common goal: caring for their communities and fostering connections.
Abbey Quandt and Mari Schmitz of CGI in Oakes, ND clean up the local baseball press box for the upcoming State Legion Baseball Tournament.